Portable bladder tanks and Water Barrier Coffer Dams
Water Barrier Coffer Dams
Water-inflated dams are quickly and easily deployed, filled with any available water source and are an environmentally friendly option where the overall impact on surrounding areas is a concern.
NCS Environmental Solutions – Water Barriers are fully customizable and come in two standard models as well;
Double Dams or Triple Dams are reusable season to season or project by project, providing extremely flexible design /layout full contact configurations, do no substrate damage, and are suitable for worksites performing dewatering or flood protection in waters up to 6′ (1.8m) deep.
Double Dams or Triple Dams
The Double Dam features one internal stabilizing panels acting as a baffle to provide safety and stability for all sizes from 3′ (0.9m) to up to 8′ (2.4m) high.
The Triple Dam features two internal stabilizing panels acting as baffles to provide safety and stability for all sizes from 3′ (0.9m) to up to 8′ (2.4m) high.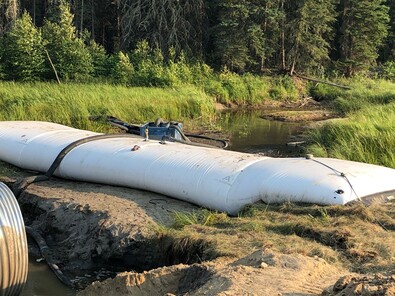 Spill Containments
The NCS Environmental Solutions Ltd. secondary containment system consists of overlapping High Density Polyethylene (HDPE) panels. The panels are free-standing and come in two shapes; straight panels that measure 1.0m x 1.0m x 1.0m and 45° rounded corner panels that measure 0.96m x 1.0m x 1.0m.
This unique design allows for users to assemble the panels in a variety of configurations appropriate for their containment area. As a 2C Enviro Inc distributor NCS Environmental Solutions has the added protection of the engineered and patented design. for the system (application no.3,033,434 and reference 75605-1)
The containment systems is lined with a poly liner so In the event of a spill from the above ground storage tanks, or equipment housed within the containment system effectively contains harmful fluids to prevent seepage to underground water sources and damage to the environment. When the system was reviewed with respect to the following regulations: Alberta ERCB Directive 55 "Storage Requirements for the Upstream Petroleum Industry". Saskatchewan Directive S-01 "Upstream Petroleum Industry Storage Standards". British Columbia "Oil and Gas Activity Application Manual".
The secondary containment panels have been analyzed to resist overturning and localized bending failure under hydrostatic fluid loads. The panel deformation was calculated and measured to be within acceptable limits to prevent spillage and maintain performance over several days of fluid containment. 
Portable Spill Containments
Commonly known as duck ponds, this collapsible spill containment product is compact for easy storage and quick setup.
Standard soft wall is rigid enough for side walls to create a 360-degree containment while providing a roll in and roll out option for wheeled equipment needed containment.
Containment walls are 3″ or 6″ tall. Available in 24″ x 24″, 36″ x 36″ and 46″ x 46″ standard sizes.
Available in chemical resistant industrial PVC or Heavy duty 35mil thick, polyester reinforced, interpolymer alloy material that features superior hydrocarbon resistance.
Flexible
Reusable
Repairable
Culvert Plugs
The air-inflated Air Plugs, aka Air Bungs, are made to friction fit too the inside of a culvert or pipe to temporarily prevent the passage of liquids during construction or during emergency spill response. Used in mines and refineries as quick response to reduce fluid communication and travel to unaffected areas.
Air Plugs or Air Bungs are made with high strength industrial coated PVC fabric, they are compact for easy handling or storage, easily inflated with a hand or foot operated pump, reusable and repairable.
Each Air Plug or Air Bung comes standard with a 3/4″ fill/drain, fitting, pressure relief valve, valve stem and D-ring fixed to both ends.
Turbidity Curtains
Turbidity curtains (silt curtains) are used to contain sediments and suspended particles that are disturbed during the normal course of construction activities in, or near, water bodies. Always check your local municipal, provincial or federal regulations to understand any regulations concerning sediment control during any construction activities.
NCS Environmental Solutions are durable turbidity curtains (silt curtains) with a continuous top mounted EPS flotation cell incorporated, additionally the bottom of the curtain is includes ballast with convenient chain attachments for ease of installation and security.
NCS Environmental Solutions offers a standard length of 50′ and are easily attached in series to form a continuous turbidity curtain (silt curtain) accommodating various worksite configurations and sizes. Should water treatment be an additional requirement NCS Environmental Solutions can additionally assist with further sediment filtration and treatment systems.
In addition, NCS Environmental Solutions standard heights are:
5′ or 1.5m deep
5′ or 2.25m deep
10′ or 3m deep
We also build custom sizes with depths up to a maximum of 20′ or 6m.
Portable Bladder Water Tanks or Pillow Tanks
It's generally agreed that the best way to deal with an emergency is to prevent it from happening in the first place. Our portable Bladder tanks, also known as Pillow tanks, can be quickly deployed, and filled with water from any available water source. We have capacities of up to 300m3 in total. Our NCS Portable Bladder Water tanks can be reused, filled, and drained, redeployed, or act as a functional storage tank for extended periods.
The use of high strength materials makes our NCS Portable Bladder Water tanks reusable once drained. NCS Environmental Products can be certified as requested by a client's schedule and any recommended repairs made, so that the water bladder tank can be easily stored before future use. This gives our clients comfort that their NCS Environmental Solutions bladder tank or pillow tank is ready when it's needed.
NCS Environmental Solutions carries a large inventory of standard sizes and can provide a variety of custom sizes or custom configurations that are made to order.
---
Request a Quote
NCS Fluid Handling Systems knows that our clients have unique needs. Contact us for your custom quote today.
---