At NCS Environmental Solutions – We've got the Environmental Solution You're Looking For!
With NCS Environmental Solutions stocking materials and equipment in all of our NCS locations across Canada, we offer a competitive advantage for freight costs as well as the rapid response in the event of an emergency such as fire water supply or flood mitigation.

NCS Environmental Products offer complete services, for installation, filling demobilization and recertification and testing of Water Barrier dam products, as well as a complete line of sales and rental systems.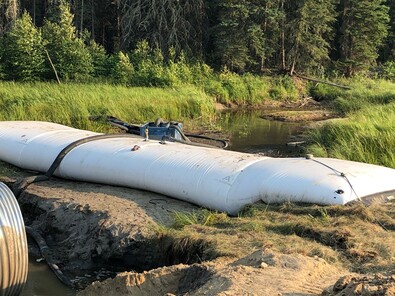 Getting ready with a prepared plan or experiencing an emergency right now?

Our team understands the benefits of executing a well-prepared plan and the magnitude of emergency situations and responds accordingly. We work in a responsive and safe manner to mobilize manpower, pipe, hose, pumps, and support equipment.

Emergency flood pumping support normally calls for flood mitigation dams and emergency pumping. We prepare, supply, and install various pumps and lengths of drainage lines so water can be moved safely and effectively incorporating filtration if required or erosion.
---
---
---
Request a Quote
NCS Fluid Handling Systems knows that our clients have unique needs. Contact us for your custom quote today.
---